But first, a stop at the Dairy Mart and some good music!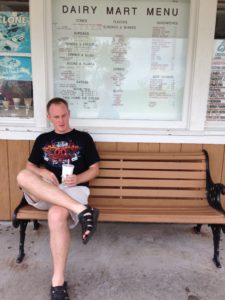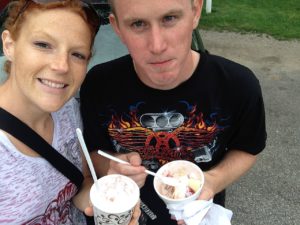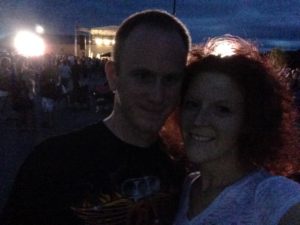 We got dinner and treats at the Dairy Mart before heading to the Casino for the "Under the Sun" tour, featuring The Spin Doctors, Blue's Traveler, Smash Mouth and Sugar Ray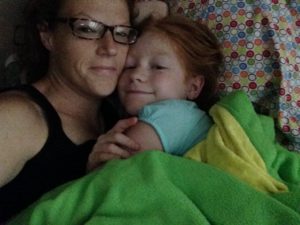 I woke up to this <3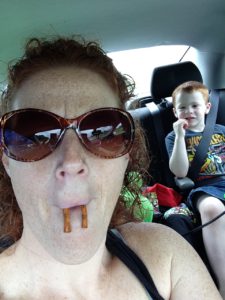 and we traveled with THIS <3 !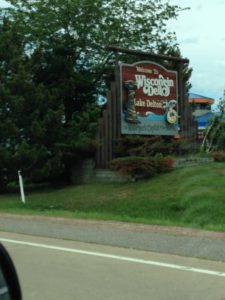 5 hours, and three pee stops, a poop stop and a lunch break, later, we arrived in The Dells!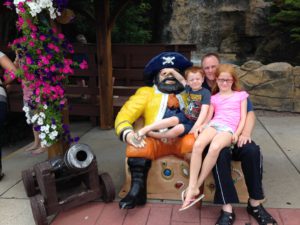 To kick off the fun: Pirate's Cove Mini Golf!
Andy and Carter had a blast!  It was head to head competition hole after hole.  Charlie … not so much … so he and I became partners in goofiness!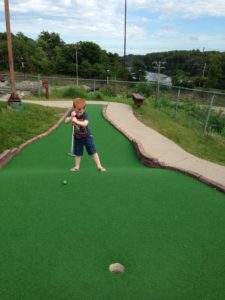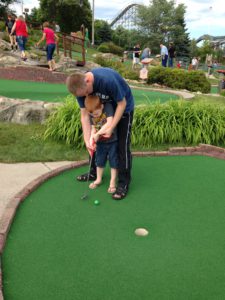 His putt stinks, so Daddy provided assistance!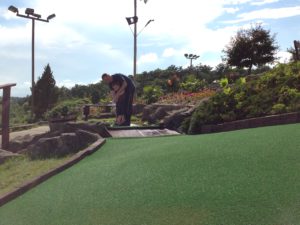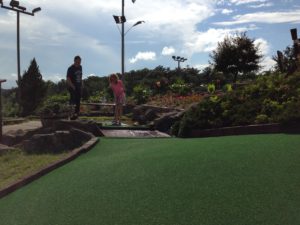 We played "medium," but there were some tough shots, for sure!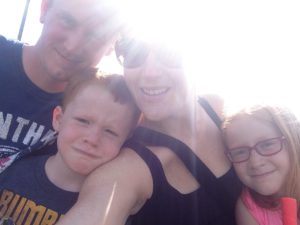 Having a goofy, great time!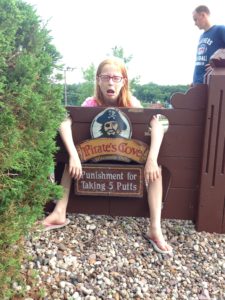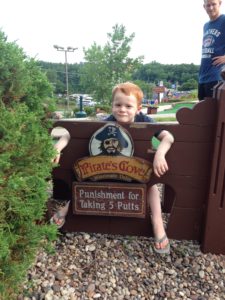 Prisoners!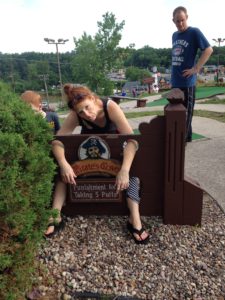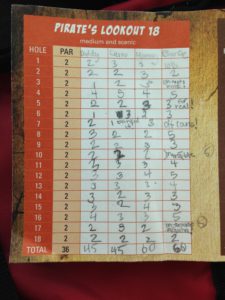 Prisoner!  And a very tied game!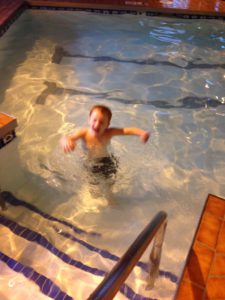 We headed back to the hotel for some splashy fun!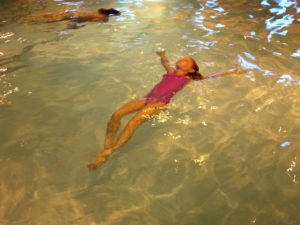 After a leisurely float, Carter and I participated in the Lake Delton Cannonball Olympics.  Our cannonballs were assessed on technical skill and degree of splash.  She beat me every time!
When Monday morning arrived, Andy, Carter and Charlie were ready to ROCK!  Me?  I was dizzy, had a headache to end all headaches, and was throwing up.  So, I sent them to Noah's Ark without me (missing the fun nearly killed me!)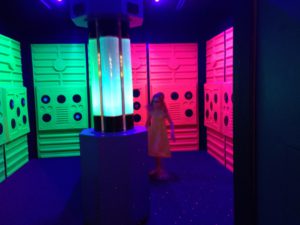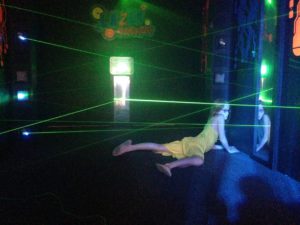 Around 5:00, the rain and lightening arrived, but I was feeling better, so we went to Buffalo Bill's Pizza and got an added surprise: Knuckleheads Play area!  And we went nuts!  Carter kicked off the fun by playing in the laser tag booths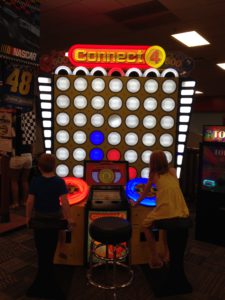 Life-size Connect 4, anyone?!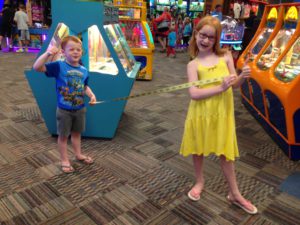 We won 45 tickets, which was awesome.  At least … we thought it was awesome …
Then, while they were both playing a fishing game, Charlie caught they jackpot fish, winning 1,100 tickets!  THAT was AWESOME!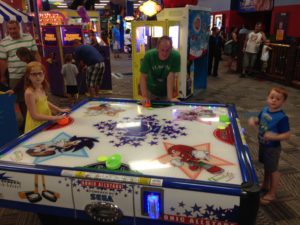 4-Way Air Hockey proved to be quite the challenge!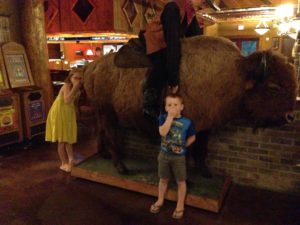 Headed back for pizza, we passed a smelly buffalo!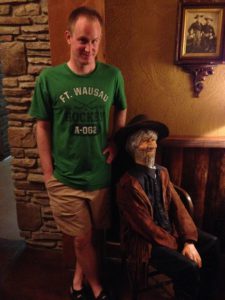 And Daddy met an old friend!
Tuesday, we weren't able to check in and play at Mt. Olympus, and we had lots of little outings planned, so we laced up our kicks and hit the road!  Stop #1: Timbartavi's Wildlife Park!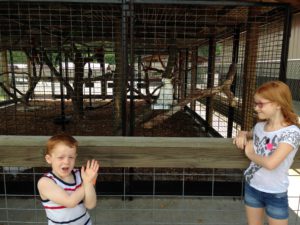 We met the "Hello Bird," a talking and chattering parrot that the kids fell in love with!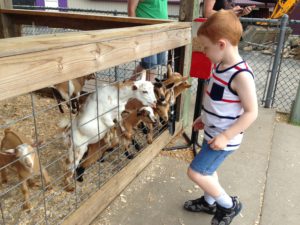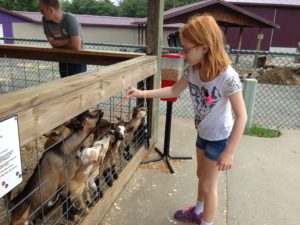 We fed the sweet little goats carrots, and Charlie's fingers!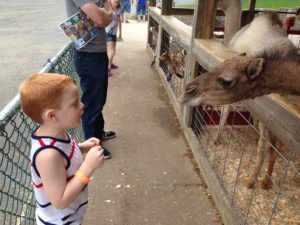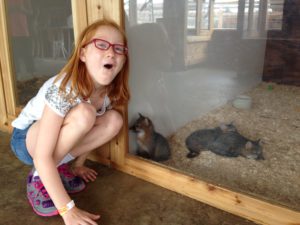 They both made friends with fun animals: Charlie met the camel, face to face, while Carter fell in love with baby red foxes
We got to pet Apollo, the baby tiger.  It is safe to say we all fell in love with him, and we NEED ONE for Christmas!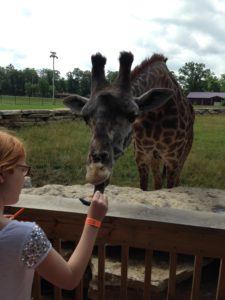 Giraffe pals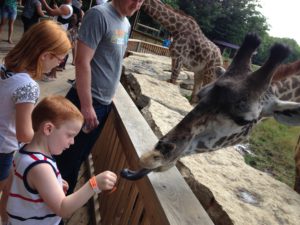 Munching on carrots with his big ol' giraffe tongue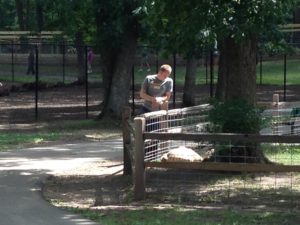 Daddy chilled with his favorites, the tortises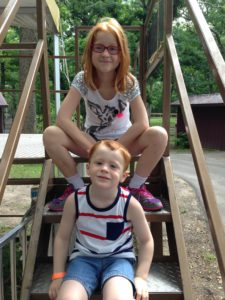 Waiting our turn to ride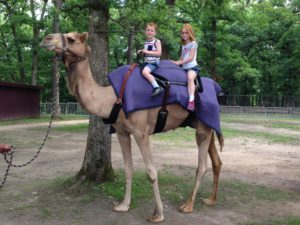 The camel!  Charlie was unsure, but Carter didn't hesitate to climb right on!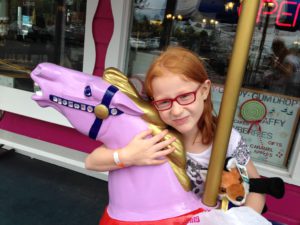 Stop #2: The Candy Kitchen!  We picked small treats … well, the rest of us did!  Carter, left on her own to choose, got the biggest bag of Jelly Belly's imaginable! 
My sweet boys waiting for their sweet treats!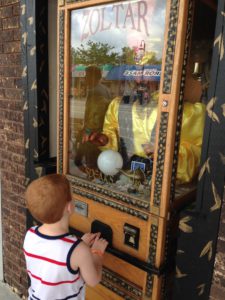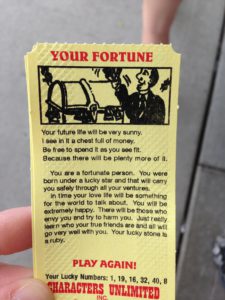 On main street, Zoltar told Charlie's fortune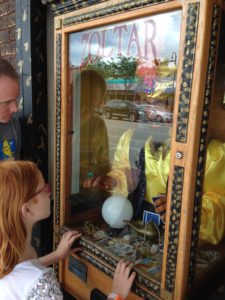 He also told Carter hers, and she thought it was "NOT FAIR!" that Charlie's fortune was better.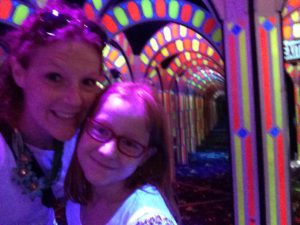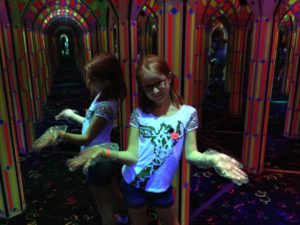 Carter wasy dying to check out the Crazy Mirror Maze.  We went through once, then got to go again with 3-D glasses.  Miss Smarty Pants figured out she could look at the floor, to see which mirrors had been caulked to the floors and see where there wasn't caulk or a door, and whizzed through the maze!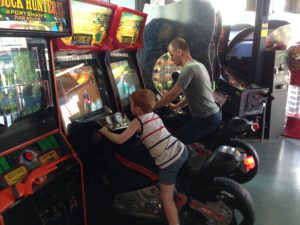 The boys played at the arcade while we mazed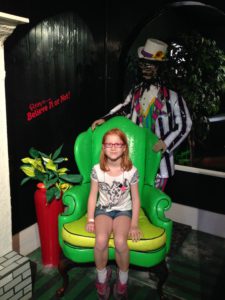 Then, it was off to Ripley's Believe It Or Not "Odditorium."  Total winner with Andy and I; the kids hated it!  Carter shared that she only liked the first room/display: the room of duct tape, consisting of a bed, desk, flowers, chair, entirely made of duct tape!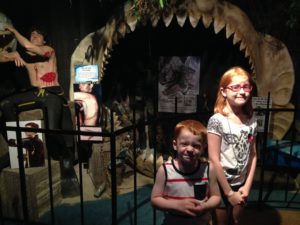 I love the freaked out look on both of their faces!  They did their best, being brave and bold, checking out the displays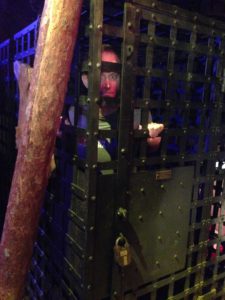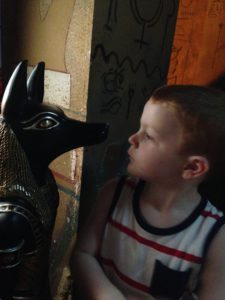 While Daddy got trapped in a 17th century torture cage, Charlie came face to face with a Pharaoh Cat!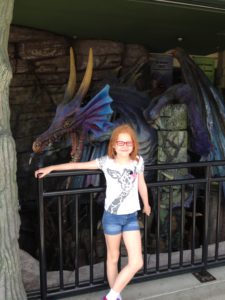 After being thoroughly freaked out, it was time to nerd out!  Carter had been "Ohh'ing!" and "Wow'ing" over Wizard's Quest all day.  She was so excited to go free the wizards!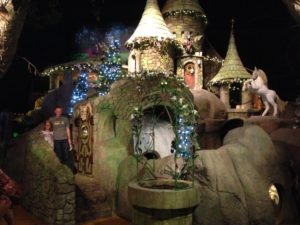 While they were unable to free the wizards (which really burned her, and I'm sure him, as well!), they had a great time!  Carter and Andy teamed up to figure out clues and explore the Earth, Air, Water and Fire elements to help the wizards.  Charlie and I … we ran around, played in the secret doors and areas, and went down slides.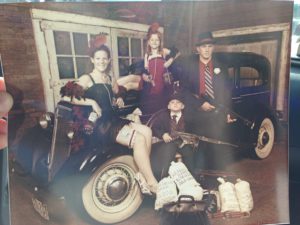 Last on our list of things to hit on main street was Old Time Photography.  I still have our last old time photo and was excited to get the family's done today!  Carter wasn't excited at all, but then came fringy dresses, heels and tommy guns, and her attitude changed!  She agreed it was almost ("ALmost!") as cool as Wizard Quest!  I think our gangster family photo is fantastic!  Be prepared to see it again on your Christmas card!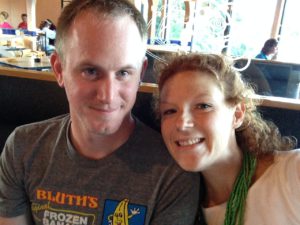 Last up on our amazingly awesome day: dinner at the Mexacali Rose restaurant!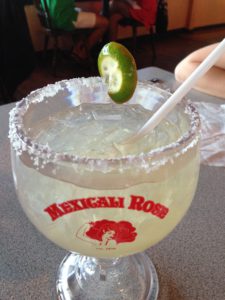 Much needed this evening!
Wednesday, it was GAME ON at Mt. Olympus!  However, Mother Nature had other plans, presenting us with 63 degree weather (yes, on July 2nd!).  So we took the opportunity to score Dells sweatshirts, and we rode the rides, drove the karts, and swam INdoors!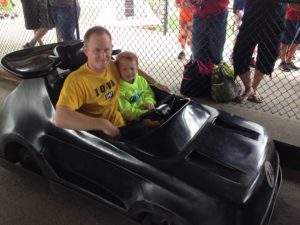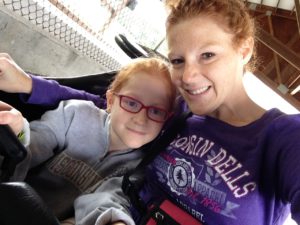 Riding the Trojan Horse.  It was boys vs. girls, until we got split up.  Carter was so thrilled to be driving Team Girl's car (I got to sit in the raised kid seat!).  We'd contemplated letting her drive her own car, alone, but decided it was better to start together.  Good thing, because about halfway up the horse, far away from ride attendants and help, we were sideswiped by another young driver.  Hard.  It shot us sideways, into the wall.  Carter freaked, but controlled herself well.  I rammed my knee into the steering wheel, and it instantly swelled and started to bruise.  I can't imagine how Carter would have handled the scare on her own!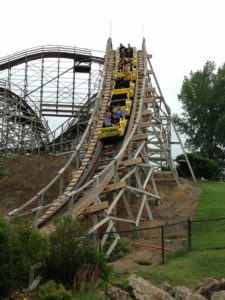 Crazy Daddy!  That's him, about halfway back in the yellow shirt, on the Cyclops roller coaster!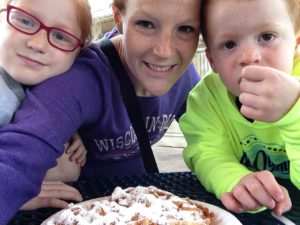 While Daddy rode his crazy coaster and I recovered from a go-kart related auto accident, we munched on some delicious funnel cake and goofed together!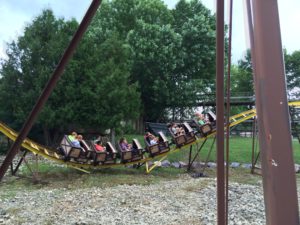 There were coasters for kids, too!  And ours sure loved this one!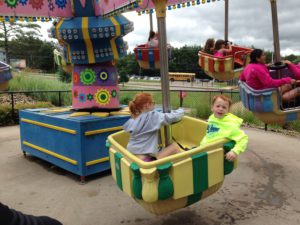 They rode, and aruged about spinning, the balloons together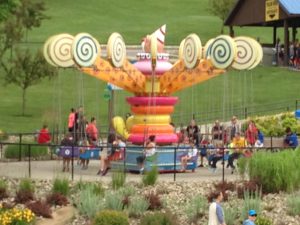 Then we divided and conquered: Andy and Charlie (on the right, yellow shirt) rode the swings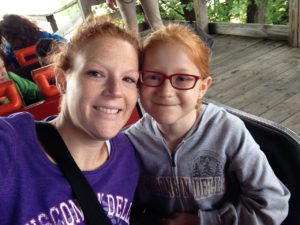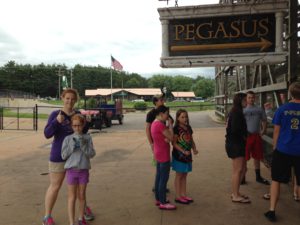 And Carter and I rode The Pegasus roller coaster.  It was a smaller coaster, and she was "really nervous," but she did great!  And later, she decided it was her favorite roller coaster, beating out the Mall of America's Pepsi Orange Streak!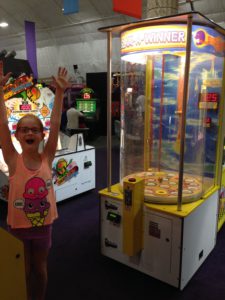 We checked out the indoor theme park and game area after lunch.  Carter had a 100 ticket score!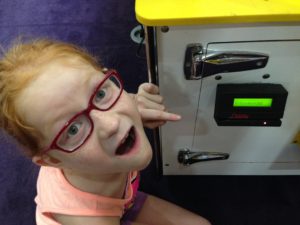 And then, she got a 300 ticket score! 
(Charlie was unable to play because he was having some vacation-related pooping issues!)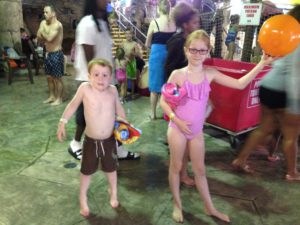 And then, it was swimming time!  Because it was 63 degrees outside and cold, it was packed indoors!  Andy and Carter hit the tubes and water slides.  They had a great time!  Charlie and I headed to the kids pirate ship and the smaller slides, to run, splash, play ball, and giggle.  It was an awesome afternoon!
And this happened, making Andy Super-Dad!  On the right, he went down the bumpy drop slide …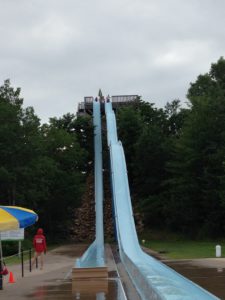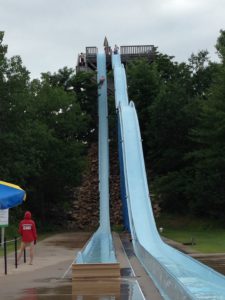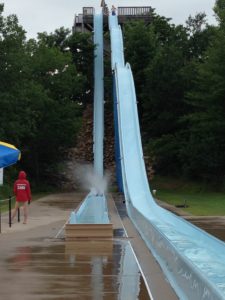 And then the slide on the left, Devil's Drop!  Whatta crazy Daddy!  The kids were insane over it!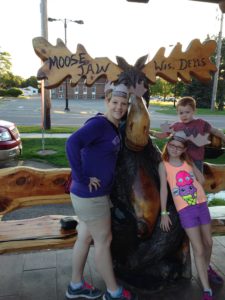 And we wrapped up our day with Moose Antlers from Moose Jaw
(check out the welt on my knee already!)
Thursday morning, it was beautiful!  Sunny, a little chilly, but a day I would have sucked it up to splash outside.  However, it was our heading home day.  But we managed to squeeze in some more fun before wrapping up our time in the Dells!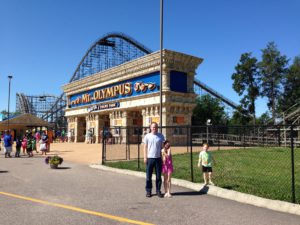 Ready to rock!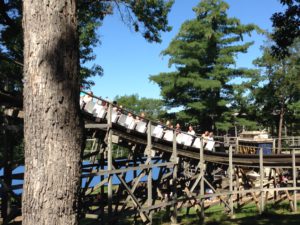 Daddy (grey shirt in the back) got crazy again and rode the Zeus roller coaster!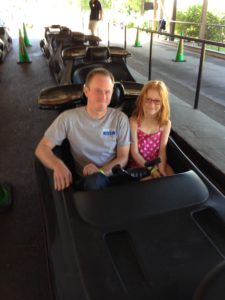 Go Karts!  Riding on the Poseidon track!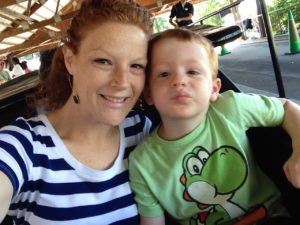 Go Karts!  He yelled his fun, goofy "ARRGH!" ever time we hit a bump!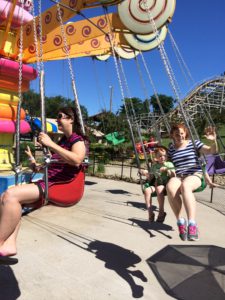 Charlie picked the swings …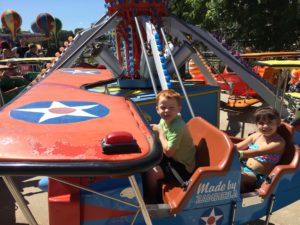 … and the airplanes while Carter took Daddy back on the Pegasus roller coaster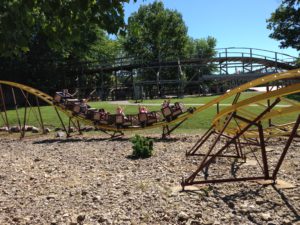 And they rode the kid coaster again, this time with their hands in the air!
Ready for their own go-karts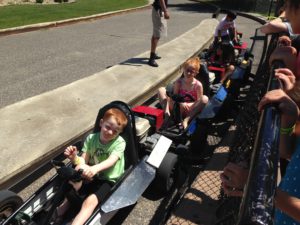 On a kid track, they got to drive on their own and race one another!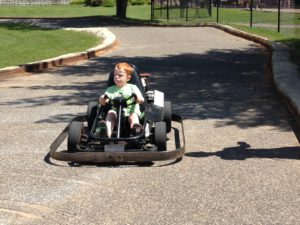 Charlie started ahead and stayed ahead …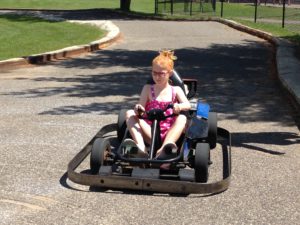 … but Carter was always close behind!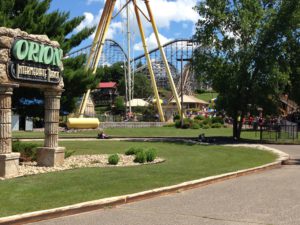 Coming around the bend: Charlie followed by Carter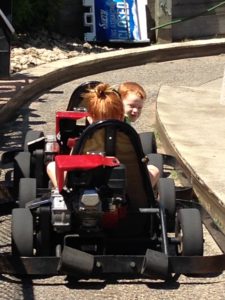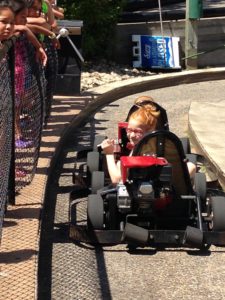 Hey guys!
Last track of the morning: The Helios!  Carter and I killed it, passing five drivers!  Andy and Charlie, content with being the final car, went crazy car and had a blast!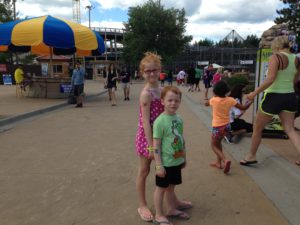 While Daddy got one last coaster in (The Hades!), we got tats!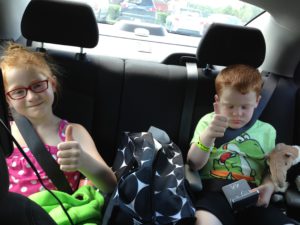 Thumbs WAY up to a great morning and a rad week (minus being sick!).  The car's packed, and we say goodbye to our fun-filled vacation.  Or, in Charlie's words, "Bye, The Dells!  See you soon!"