This week is Homecoming for Johnston.  Our theme is "Fire and Ice," and each day's theme is something opposite.  Monday is formal vs. pajama's, and how much more formal can you get than your wedding dress?!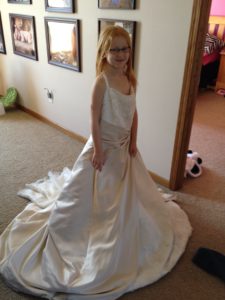 So I busted out the big ol' dress and modeled it.  Charlie said, "WOOOOW!  Pretty mommy!" and Carter said I looked like a princess.  Of course, she had to try it on, too!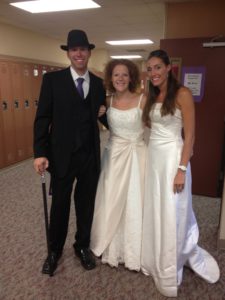 I'm pretty lucky to have a team of people who also like to dress up and play along!  My math co-teacher Chris and Transition teammate Barb both dressed up, as well!
The other days weren't near as fun (Super Teacher for hero day, Hawk gear for IA vs ISU day, and my go-to Jton Super Fan shirt for Friday's Big Game), but how do you trump 20 pounds of tulle and glitter?!