Mrs. Baird asked the class to write about what they'd done over spring break.  Charlie, in his kindergartner glory, wrote this: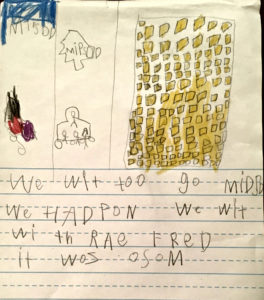 Translation
We went to go to Minnesota.
We had fun.  We went
with our friends.
It was awesome.
One the left is Minnesota, and our cars driving there.  In the middle is Minnesota, and Kelsey's truck (with Kelsey, Charlie, Collin, and Nora) on the bottom, and on the right is the tubes at the water park for the slides!