We need a dog!
Carter and Shadow (Sean & Kelly's big ol' dog!)
It's cold out – we can't go out and do anything.  Carter washed my cell phone – so it's broken and we can't call and chat with anyone.  Andy hates projects – especially "creative, artsy" ones.  So, to make the night fun and interesting, Carter and I carved our pumpkins!
Last year, we bought a pumpkin for each of us, and Andy, Andy, Tim and I took turned with Carter's, as she sat in her infant seat (at 10 weeks old!!!) and watched.  This year, being 14 months old and into everything!, I put the pumpkin and Punky on the kitchen table, took off Pumpkin's top, and let her scoop out the guts!  She was apprehensive at first, but enjoyed the squishy "pumpkin meat" and the slimy seeds.  And, like eveyrthing else, she tried to eat the pumpkin!
After an hour's worth of us taking turns scooping, we finally had her pumpkin hollowed out.  We cleaned up, and I carved it, but Carter smiled and watched with interested while I manned the knife!  What do you think of Punky's Pumpkin???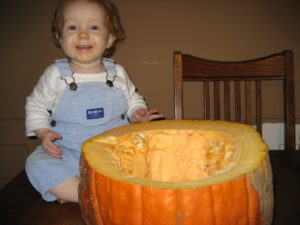 First, I cut off the top, and then we scooped the guts out!  Carter liked the squishy, slimy mess!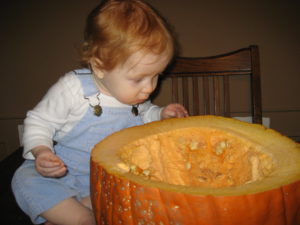 Carter cleans the pumpkin with serious intent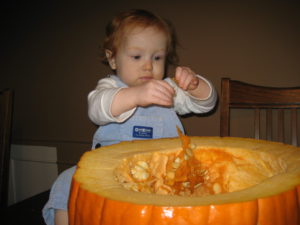 The guts came out strand … by strand … by strand …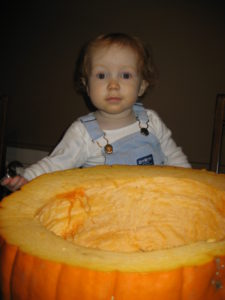 … and Carter had to get every last little strand out!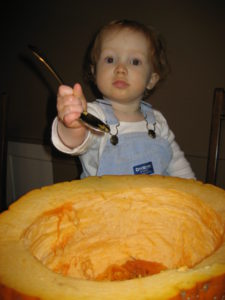 She even resorted to using the spoon to scoop!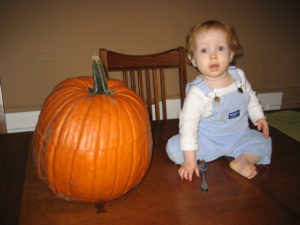 After Pumpkin was thoroughly cleaned, Carter got to sit in her chair while I crafted us a fun face.  INTRODUCING:  Punky's first pumpkin!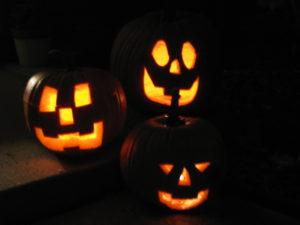 Our "family" of pumpkins
… and my favorite, color-enhanced photos ever …
Carter matched her pumpkin!