We fed Carter at her normal time this evening.  Afterwards, she was very fussy.  I assumed that the ravoli and cherries did not sit well.  Upon further investigation, it appears that Carter is cutting her first tooth!  You can see the tinest little sharp tip on her lower gumline.  It's adorable!  But looks very painful.  She's never been a fan of teething rings, but she loves her popsicles!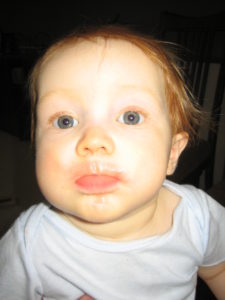 Mom!  Dad!  My freakin' teeth are killin' me!  Do something!
Yeah!  That hits the spot!  My teeth feel much better!