Oh my God … did someone slip some crack into Carter's Bug Juice?!?  The child who "will sleep all the way home from Williamsburg" slept about 30 minutes, and bounced off the walls all Sunday evening!  At one point, while I was trying to diligently update the website for Daddy, she was laying facing me with her hand on my typing hands!  Kicking my elbows and smiling and giggling!  Naughty!  At one point, she shut down the website computer (so little, but so naughty!!!).  So please be patient with us this week (Andy' s in California, and returns Friday at 11pm): we're trying to keep up on the website, but someone isn't being so helpful!
Here are some gems I got in the 10 minutes it took me to update from the weekend!  Enjoy!
Laying on my lap .. and on the keyboard …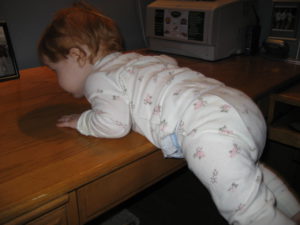 … flailing to get on the desk … why … I don't know …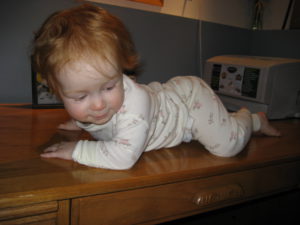 … flopping on the desk like a fish …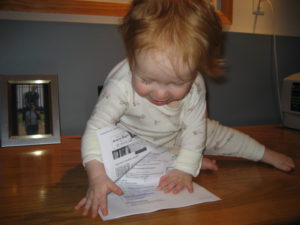 … and finally, destroying my SchoolNotes.com print o  uts for the week!  Bravo, Carter!  Thanks for helping, Turkey!!