We are beginning a "Fat Loss Challenge" at school (if you choose to partake, and I do), November 1 – February 1.  Per month, biggest loser wins a homemade pie (ironic?!), and overall biggest loser wins money and bragging rights.
I do know I won't win, but I'm hoping this keeps me on track through the holidays.  I did reflect upon how far I've come in my four and half months with Profile!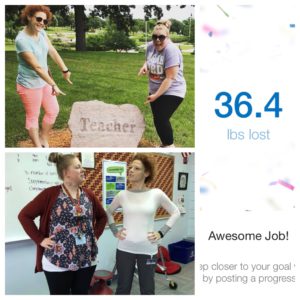 36.4 down!  I began July 9 (today is October 19th) and 4.5 months later, I am almost to my goal of -40 pounds!  This is my FLC partner and the lady to who encouraged me to start take a leap with Profile, Sam, mid-June and today.  She's down a little over 50 pounds; together we've lost a Charlie!
Great things happen when you keep the faith!