We packed the car up with our friends and headed out for some spooky times at Sleepy Hollow!  It was pretty scary for sure, but an absolutely great night!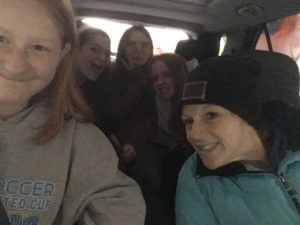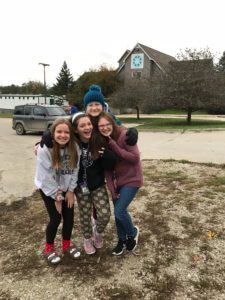 All smiles now, before going in!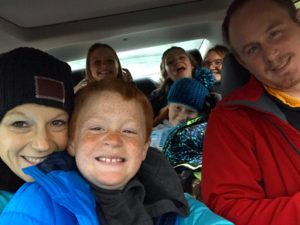 We were a lot early, so we hung out in the car, talking everything spooky!  Kayla checked her Fit Bit heart rate: already over 100 and we hadn't left the car yet!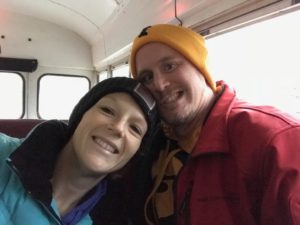 My Partner in Crime!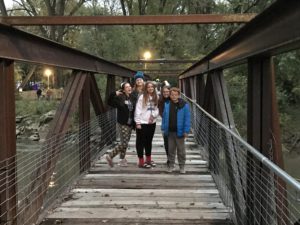 Pre-scares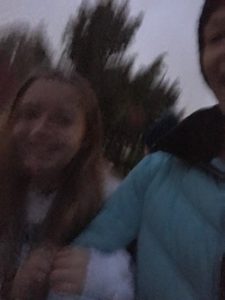 I had to drag her through the "Twisted Tales" house.  She was terrified!  I was in the lead, dragging this one, followed by Carter, Kayla, and Emma, who would freak out and charge ahead and ran into us.  It was hilarious!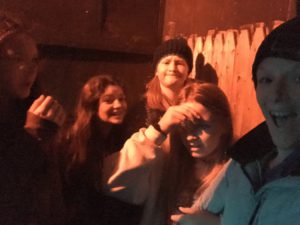 Mid-way through "Twisted Tales."  The spooky madman in the black and white maze razzed us, then told me, still in character, that she wanted her mommy and I should get her out!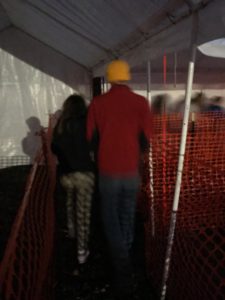 Andy protecting Kayla!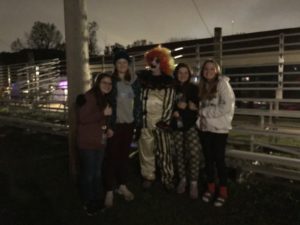 Killer Clowns and great smiles!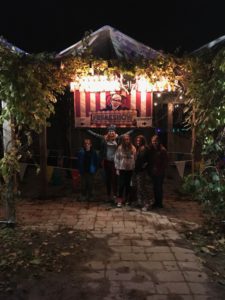 Welcome to the Freak Show!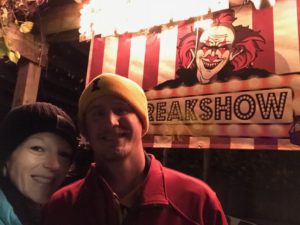 Chaos Coordinators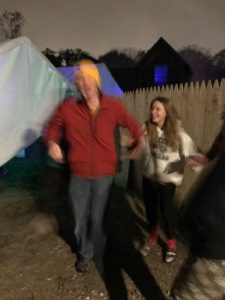 Andy got to drag her this time!  In the "Freak Show," the final section of the attraction was a circle, with a crazy clown herding us around and around and around.  He made us sing Happy Birthday to him while he blared an air horn at us!  He waved a flap, to the exit, taunting us.  Carter bolted, but we all got stuck inside!  Then he began to count down, and Carter, Kayla, Emma, Charlie, and I were able to "escape," but Andy and Amelia were still suck, making circles and singing!  Amelia was flipping out!  When they finally got the chance to slip, she did.  Andy came out holding his ears, laughing so hard they hurt!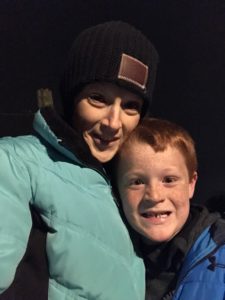 Whatta champ!  He got spooked at the start: a crazy old woman came up behind him, and he ran down the muddy lane yelling!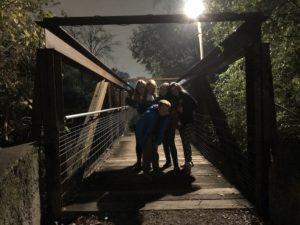 Post-scares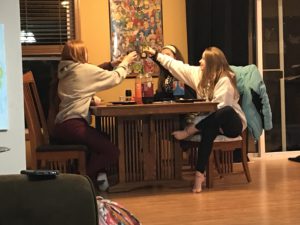 CHEERS to surviving Sleepy Hollow Scare Park!  And CHEERS to good friends and great times!