ADVENTURE TIME!  Our epic road trip and skiing adventure, over a year in the making, is upon us!  We were so excited Friday evening, none of us could sleep!  And Saturday, we were up, bright and early and on the road to Colorado!
SATURDAY: The Drive to Denver
We had the rental car ("Rental Ralph") packed and ready, and we were on the road by 7am.  We drove.  And drove.  And drove.  Wow … what a drive!  We stopped in Cody, Nebraska at Buffalo Bill's Trading Post, however, there wasn't much more between us and Denver!  Once in Denver, we checked into the hotel for a little swimming (and fighting), then found a kitchy little bar for dinner.  Next stop: Avon, CO!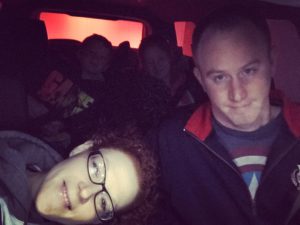 OFF we GO!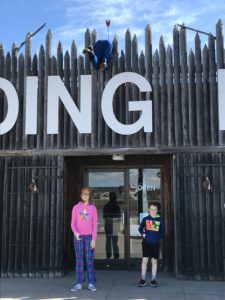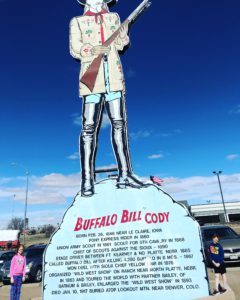 Buffalo Bill's Trading Post was kind of like WalDrug in the west: huge and odd and interesting.  Of course, the kids loved it!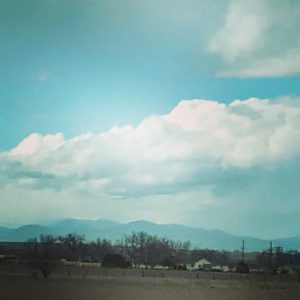 Mountains!  We're getting there … mile by mile …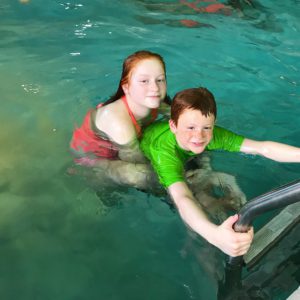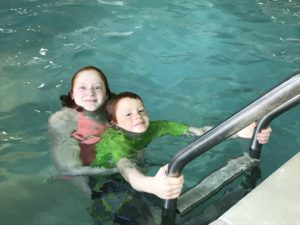 They had officially lost their mind by evening!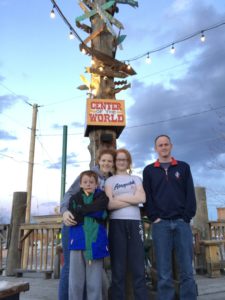 We had dinner at a local bar, touting "The Center of the World," which Andy pointed out was really anywhere, depending on your outlook!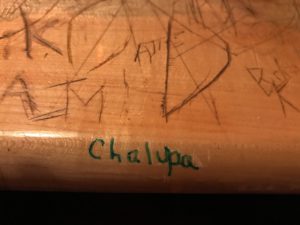 It was a unique little place!  We owned the jukebox, enjoying chili fries, and relaxed after a long, long drive.
Sunday 2: The Drive to Avon
We left Denver for Avon, and I'm sure both kids thought we were lying about mountains and adventure.  However, once closer to Avon, they were in awe!  And the excitement was tangible!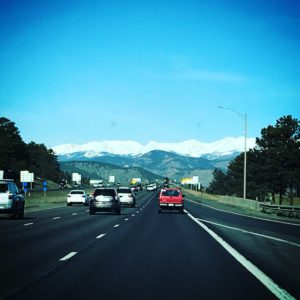 We had driven all of yesterday, and about an hour and a half today, and still no real mountains.  Andy drove around a turn and we saw THE MOUNTAINS!  Carter said, "Wow …" and was speechless (that says a LOT!), and Charlie said, "Holy shit, mom!  Wait, sorry!  But wow!"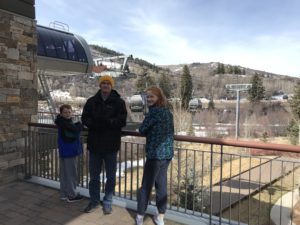 We parked and took the gondola (!) to the base of Beaver Creek for lift tickets and ski school information.  And mounting excitement!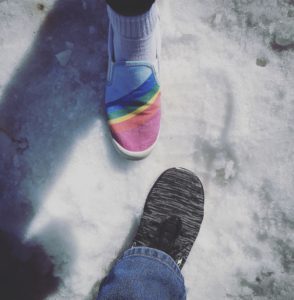 Carter could not contain herself!  She just had to get in that Colorado snow!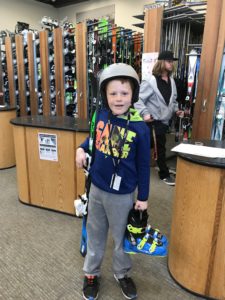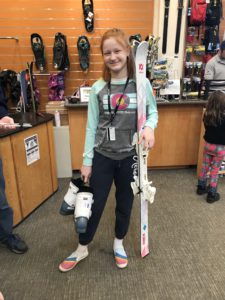 Gear!  Can we go now?!!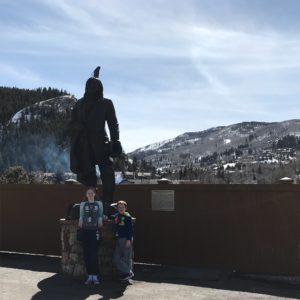 Whatta view!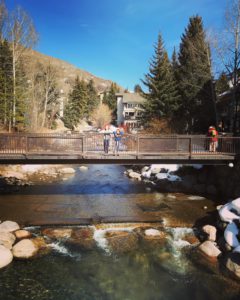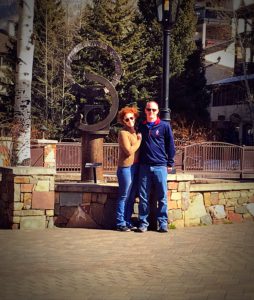 We walked around Beaver Creek and took in the beautiful scenery.  I was ready to pack up and relocate!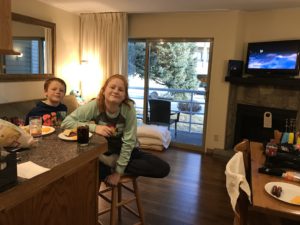 Our home away from home for the week: Christy Lodge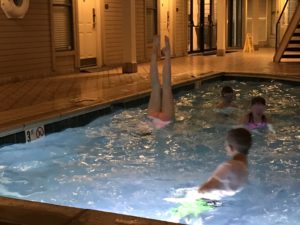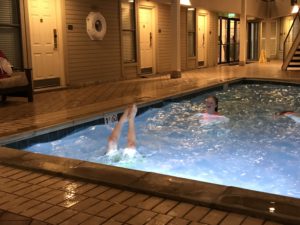 Handstand contest!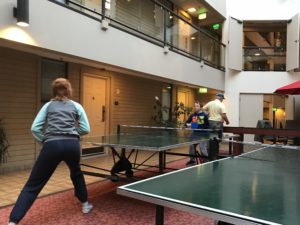 And a ping pong war!
Monday: Ski School
We were all up and ready at the first bus to Beaver Creek!  Words cannot express our excitement to get on that mountain!  After our cookies at 3:00 and one more run for Andy, we picked the kids up from school.  We got reports that they were both hardworking and did well.  Charlie did great on the bunny hill, and Carter made it part-way up the mountain (and needs to work on no fear).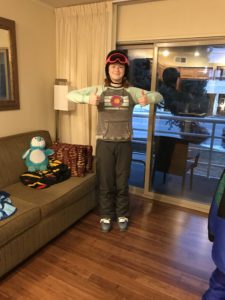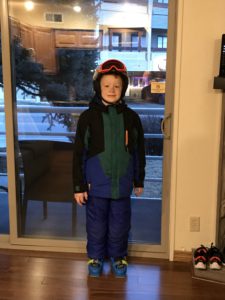 We're ready!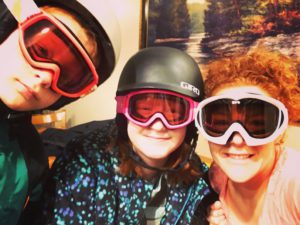 Supa-fly!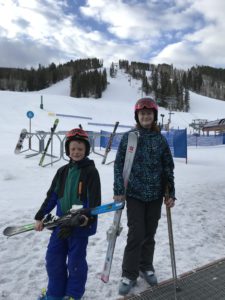 At the base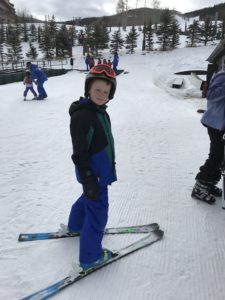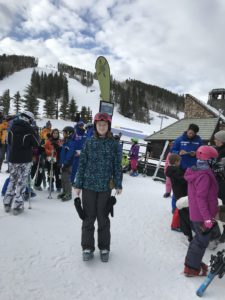 Ready for ski school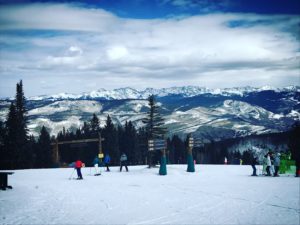 Adult ski school (L4, morning): Red Buffalo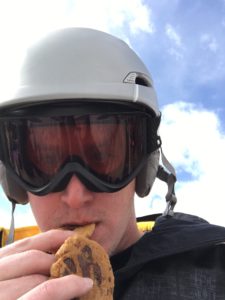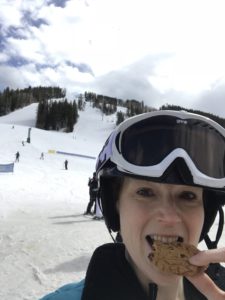 Cookies at 3:00!  Delicious! 
TUESDAY: Ski School & Parents Ski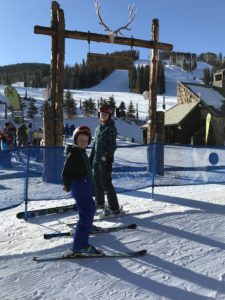 Day 2: Do great things!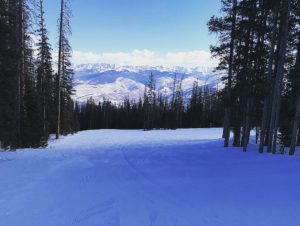 For real: Photos don't do this place justice!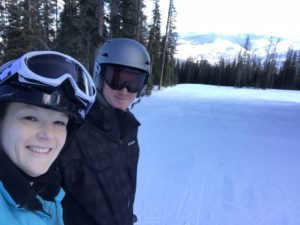 He's so awesome for slowing down and puttering along with me!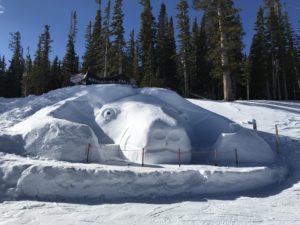 Snow sculpture near Red Buffalo run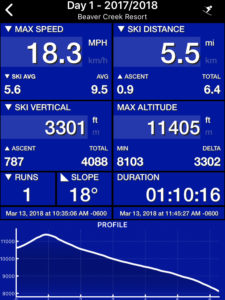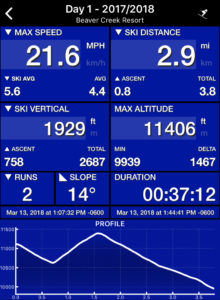 My morning and afternoon run times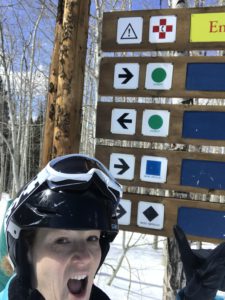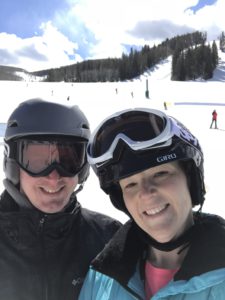 For Charlie, who mocked me all day, asking if I'd gotten farther that the bunny hill.  He 100% did not believe I took that Black Diamond (which I did not!).  We continued down Cinch together.
Wolf spotting!  So cool!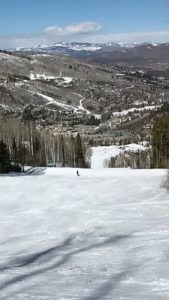 There's Andy mid-way down the mountain, me at the top of this hill and the base teeny-tiny below.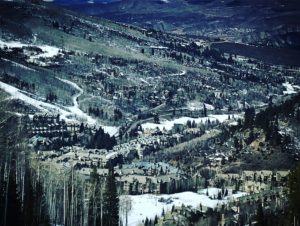 The base, looking small cause we are that high!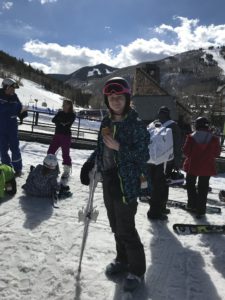 Cookie time!  3:00 at ski school.  Reports on both are that they are ready for the mountain.  Charlie's all over it, but Carter's still got to work on that confidence (the injury from New Year's Day is the culprit there).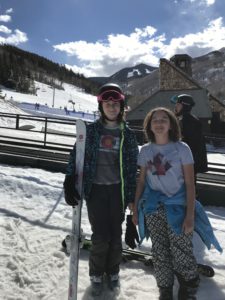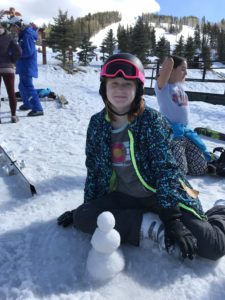 Carter's pals: A ski school buddy and a snowman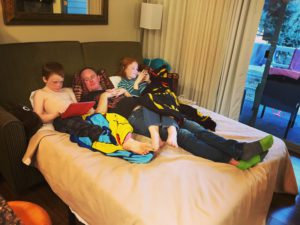 Resting up and snuggling after a long couple of days skiing.
Wednesday: Rest, Relax, and SHOP!
We took a much-need day off (Carter and I, Queens of the Snowplow, could barely walk!), and we explored Main Street, Breckenridge.  Such a cool strip of history!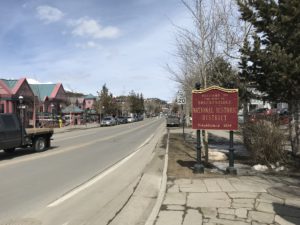 Main Street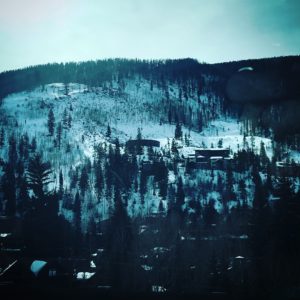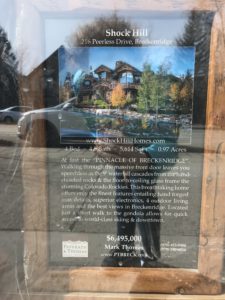 That's where I'd like to live.
For only about half a million dollars, this condo could be ours!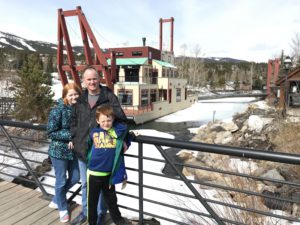 Beaver Creek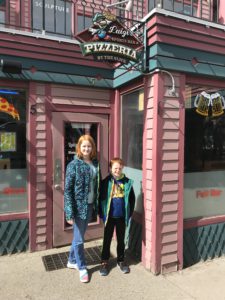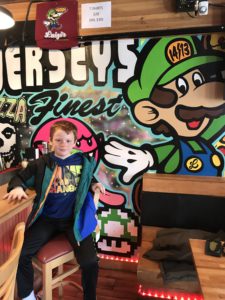 We had been ohhh'ing and awww'ing at a gem shop (Carter was in heaven!), and Andy gave up on us and found a bench to sit on outside.  His bench was directly across from Luigi's Pizza.  Such a luck finding, and so delicious!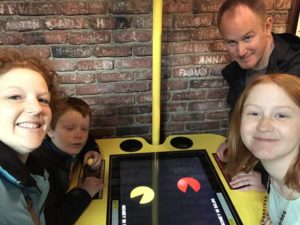 We crushed 4-player PacMan at Downstairs at Erik's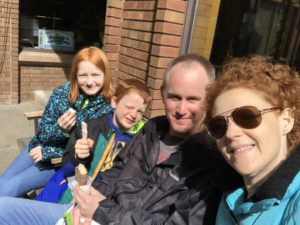 And afternoon snack at the original Rocky Mountain Chocolate Shop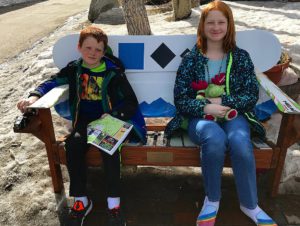 We procurred our goodies: Ski Stuffies, sweatshirts, a helmet sticker for Andy, a few postcards for friends, and our magnet for home.  What a peaceful day!
Thursday: Chalupas hit the Mountain!
What an amazing day!  We headed up Beaver Creek as a family, all I'd wanted since we'd mentioned this trip!  We skiied the bunny hill for a good part of the morning, then headed up to the restaurant at Red Buffalo.  Once fueled up again, we hit the big part of the mountain together!  Charlie took to it like a pro, but Carter was still a bit skiddish.  After a couple of runs down Red Buffalo, Booth Gardens, Piney, and Mystic Island, Carter was ready to hit Cinch and head to the base.  The boys kept at it, and we met at the base for cookies!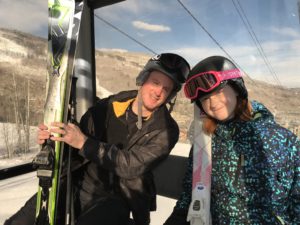 Headed up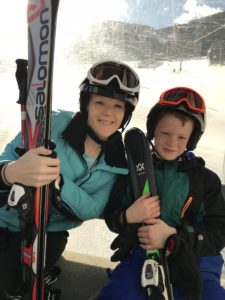 Up, up, up!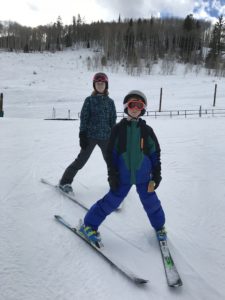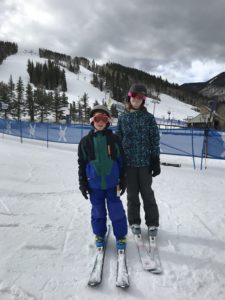 Here we go!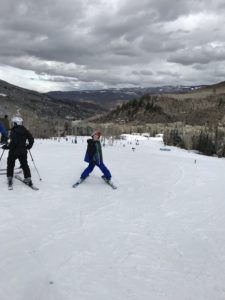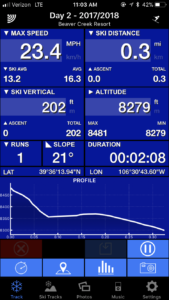 After a few runs, it was pretty clear that the little dude had it together.  He just takes to sports in a way that we don't!  Andy had headed to tougher runs while we tried to build up Carter's confidence.  Finally, I told Charlie "GO!" and kept up with him, just out of curiosity to see what he could do.  23mph and 0 fear!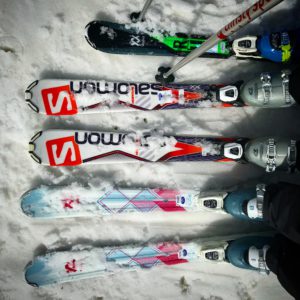 Carter said she was feeling good.  She was ready to head up the mountain.  As we waited for Daddy, we snapped our skis (cool!)!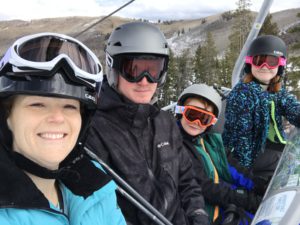 Up to Red Buffalo we go!  Not gonna lie: There were moments Carter was a little fearful of seeing such big hills, and even Charlie was a little rattled!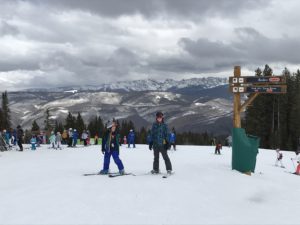 But at the top of Red Buffalo, life was good!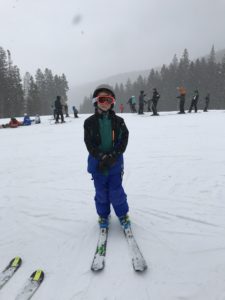 Ready for his take off!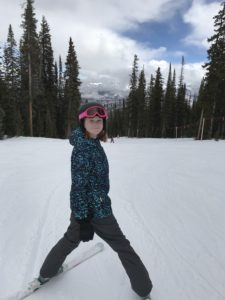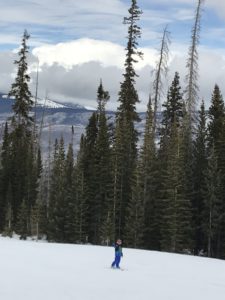 At the top of the world!  There were nearly in the heavens, happy as could be!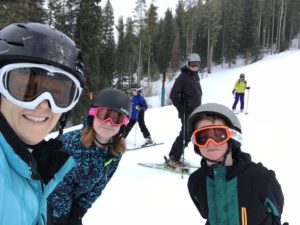 Half-way down Cinch, having a blast!
The boys headed back up for more.
Carter and I continued our adventure to the base.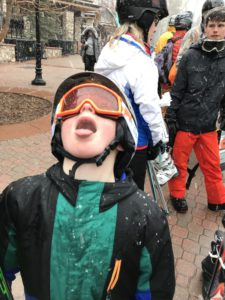 It snowed, heavy at times, on our last ski day!  Perfection!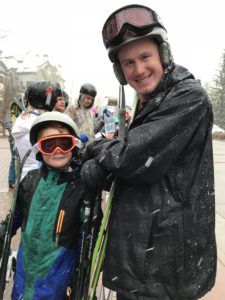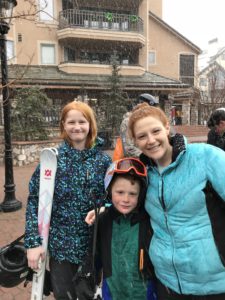 LOTS of SNOW!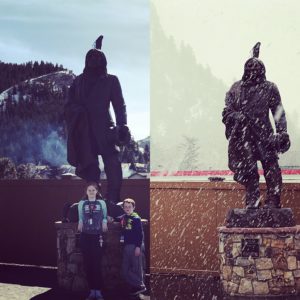 What a crazy difference a "weather event" created from Sunday to Thursday!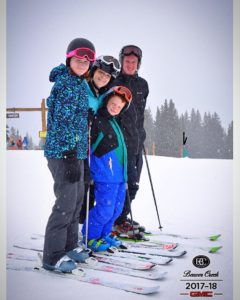 Atop Red Buffalo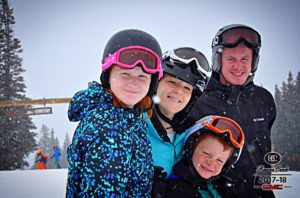 Smiles from Red Buffalo <3
Friday: The loooooong drive home
Man … coming home is not nearly as fun at getting to that adventure!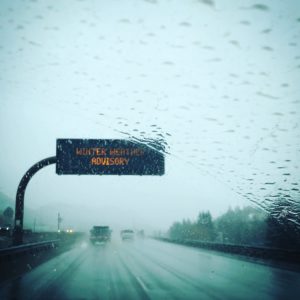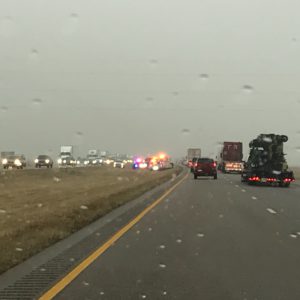 First, there was the snow.  Limited visibility at times, windy, snowy, and slick.  Then there was an accident somewhere in big ol' Nebraska.  We managed to get ahead to the storm and home around 7:45pm, only to unpack Rental Ralph in the rain and snow!  Ugh!  BUT, the snow and long drive were 100% worth these cherished memories I will hold in my heart forever!  Charlie flying down that hill <3  Carter braving Piney, then sight-seeing all the way down Cinch with me <3  And Andy, patiently skiing by my side, taking it all in <3