Mom and I made plans.  And we began to reframe normal.
Andy and the kids came down Friday after school.  They are just what Grandma, and I, needed.  Both had a difficult time with the absence of Poppy.  Carter gave Grandma a hug; Charlie said, "I'm sorry about Poppy" to my mom, and curled up on her lap.
I had left without telling the kids what had happened.  Andy wanted to take that weight for me.  He talked to both separately.  He said that Carter was teary, but stoic.  Typical Carter: holding it in and managing.  When he told Charlie, he got up from his bed and went to sit in the toy room by himself for a bit.  Andy got ready for the day, and Charlie found his way back to Andy when he was ready.  Andy shared that he'd cried, but he was worried about Andy, Carter, and me and Grandma.  He sent both kids to school.  My PR spies kept an eye on Carter.  They said she "seemed sad," but made it through the day.  Friday, Charlie's teacher sent a note of condolence, but shared that he, too, was hanging in.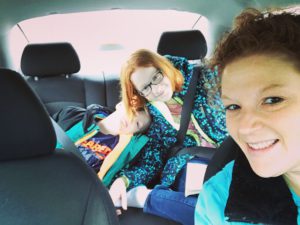 Saturday, the beasts needed to move.  They needed an activity.  We went to Washington to see Jumanji (again).  We were early, so I toured the town with the kids, pointing out my 2nd grade elementary and junior high buildings, where my friends lived, the best pizza joint in southeast Iowa, and all the naughty things were did while "scooping the loop" on Friday nights.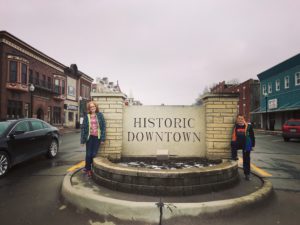 They played along with my trip down Memory Lane nicely.  I needed this moment, to share my past with my futures.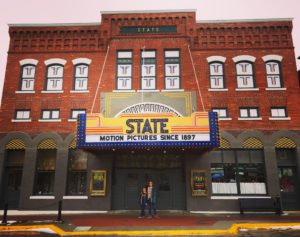 We watched our movie in world class fashion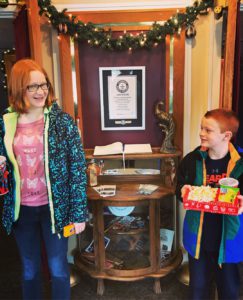 State Theater is the "oldest running movie theater in the world," and registered with the Guinness Book of World Records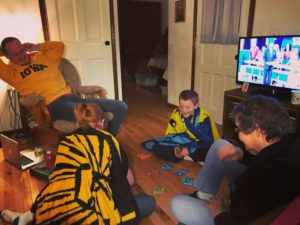 We came home for some mean Go Fish!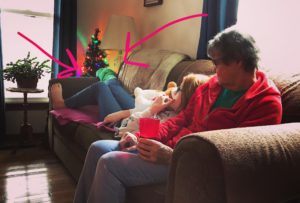 Sunday, an antsy Charlie jumped off of Dad's bed and landed on the bridge of Carter's foot, knee-first.  I was sure he'd broken her foot, but after some rest and ice, she could bear weight and was pain-free.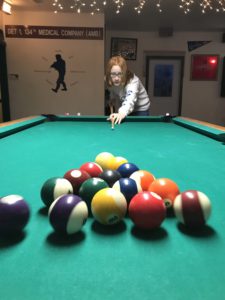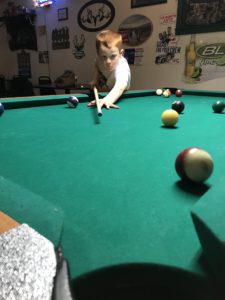 We grabbed "bar food" and a game of pool at Ca'manders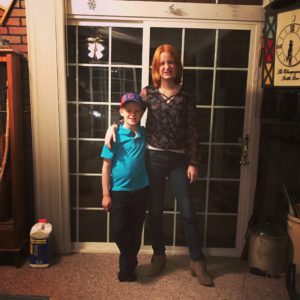 Monday evening, we headed to say goodbye to Poppy
There is no way to prepare yourself for this moment.  I know that he is pain-free in a better place, hitting home runs in the heavens.  But it doesn't make life here any easier.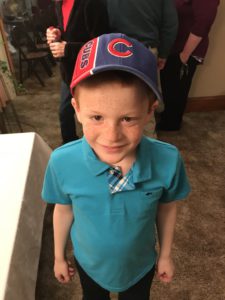 Poppy's favorite hat on his favorite little baseball fan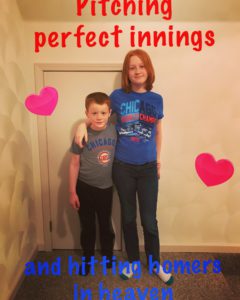 I cannot tell you how much the two of you meant to Poppy.  The day we told him he would be a grandfather, Carter.  I will never forget his excitement.  He was so scared to hold you!  He didn't want to hurt you, but it was you that did the damage – you stole his heart.  And Charlie James, his namesake.  You are everything that he was as a kid.  His spirit lives on in you both, in your adventures, in your art, in your at-bats.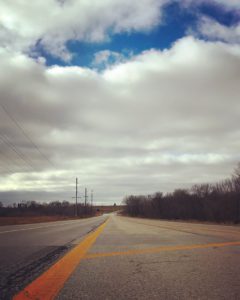 Saying goodbye is heartbreaking.  But the road always leads you back home.  Goodbye, Dad.  We love you, always.