Meet Carter Chalupa, the next Big Thing to hit video game design!
She got to choose two summer activities this year (one being Girl Scout camp, the second being Video Game Design Camp through Parks and Rec).  After a week of learning and designing, she came home with his: her certificate, a CD of her own, personally made games, and a 3rd place medal!  She was voted, by her class, as 3rd place winner for her game "Humming Maze," a maze navigated by a hummingbird.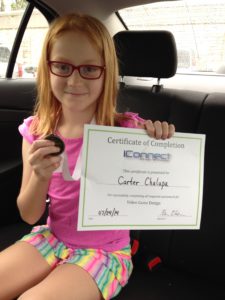 PROUD does not even begin to cover it!