3:20am we were up and running, and we were onboard by 6:15am. High above the clouds headed south before sun-up.
By 2:00, we were bands on and headed to Disney for some Mouse Magic, Chalupa style!
And lookie who we found! These four had three Disney days under their belts. In the next few days, we'll miss one another, but the beach is calling our name next week! For now, the four of us are headed to coasters and crazy rides!
Tuesday, after a long day of flying, we headed to Disney Springs for sights and snacks. We found Stitch and Hulk, and some amazing pizza and burgers. Stitchy also spit water all over us, stinker!
Our room at the Wilderness had bunk beds and a killer view, even in the Florida rain.
Wednesday we opened and closed the Magic Kingdom! We stated our day with a gigantic cinnamon roll from Gaston's Pub, then heaed to Charlie's favorite, the "Buzz Lightyear's Bazingas"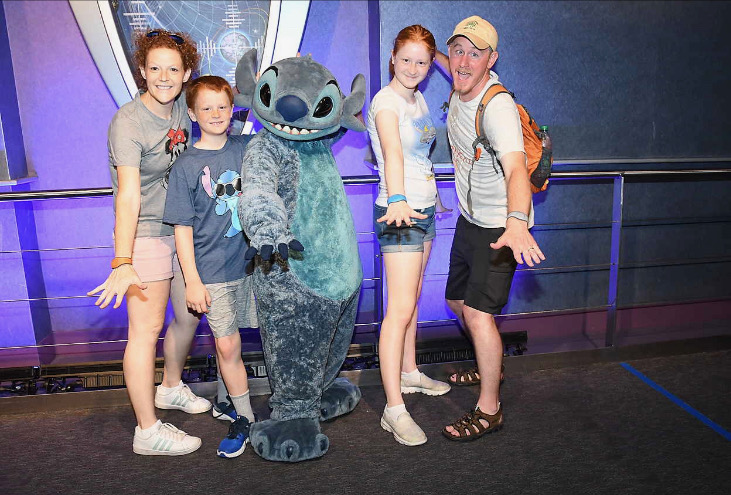 And we met Stitch. Carter was in heaven! Afterwards, we got stuck in a Magic Kingdom parade!
It's HOT here in Florida, but Olaf kept us chill!
We've been to Disney a handful of times now, and this is our first Dole Whip experience. LOVE at FIRST SIGHT!
Partners in crime in the Tiki Room! I love this place!
Our Princess at the castle
Splash Mountain! Carter's face – the greatest!
Pirates. Yes, we were this into it!
The Mine Train is the greatest ride. EVER!
"Kerits" from Pooh's garden
Believe & Soar, even in the rain!
Refuge from the rain means its time to rock some rad hats!
Chef Mickey's never disappoints! Little protein, lots of sugar, and silly smiles with the crew!
Headed to fireworks!
Even more amazing at night!
The pictures don't do it justice: MAGICAL <3
After a day of rides, a killer dinner, and fireworks, we went onto rally for after hours! We hit the Haunted Mansion, "Buzz Lightyear's Bazingas," the Jungle Crusie, and Space Mountain again. We met a couple, Kellie and Michael, who joined us for a fun night!
The park closed at 1am, and we squeezed every ounce of magic out of our day/night that we could!
M
After one day in Disney, our penny squish game is strong!
The greatest way to start the day at Epcot: with Mickey Waffles!

Epcot is so cool!
Not sure what the big deal is. Carter and Charlie need both hands to hold the "golf ball." Lame! I can just squish it! HA!

We went everywhere: Arendalle (from Frozen) to the seas (from Nemo)!
Shark bait!
Vanilope and Ralph are the greatest! And they make us look itty bitty!
We ate around the world at Epcot! Margaritas in Mexico, Eggrolls from China, a Lemon Citron from Paris, and German chocolate treats. Carter Kay, our French speaking beauty, ordered antipasta flatbread and a chocolate dome for us, in French!
It was hot. We have been busy. And she is tired! After soaring, we headed "home" for dinner with the family. And the Queen!
Why is it that the girls can just be cool, while the boys have to fight and wrestle like crazies?!?
We had an amazing dinner with Snow White (who was not going to make a silly face for Aunt Amber!), Goofy (we already have six goofies of our own!), and Grumpy (who has nothing on our Walter faces!). Then, we met the Queen! She was amazing! She told us we had Makayla "well trained," and she mused over my rings, asking if I'd "stolen them from the mines." She was great! The food was delicious, too! Carter mixed her own "magic potion," and we ended dinner with poisoned apples!
Then we headed back to the lodge for some swimming!
Friday, we all headed to Hollystudios for lights, camera, and fun!

We were at the park before it opened .. and luckily we were ready to make a dash to death at 8:45am. We were some of the first on the Tower of Terror, and it was great!
The new Toy Story Land was a hoot! So bright, colorful, and fun!
We met Edna, and she wanted to share with us her greatest secrets and inventions, but she had to leave!
Some of Charlie's favorites: PIZZA and RIZZO!
The FORCE is STRONG with these Chalupas!
Greatest shirts in Disney!
One last ride at Hollywood Studios: The Rockin' Roller Coaster. Best for last, for sure! Charlie spotted, and insisted we take our picture with, a rock and roll Stitch!
Two years ago, I ordered a Pandora bowl from the Cantina. Carter tried a bite, and loved it, but refused to deviate from her normal foods, so she didn't order it herself. She'd been talking about this Cantina for days, asking to go. Andy said no, but then sneaky got her there for lunch! And it was delicious!
The things we do for our kids …

She wanted to ride Pandora's Flight of Passage. We waited in line for over three hours at our last visit, but Charlie and I gave up after hour two. I promised her I'd stick it out for her this time. 120 minutes later, it was the greatest ride ever, and completely worth the wait!

True to times, two hours later, we'd conquered the Flight of Passage!
Dinner, and drinks, at the Yak and Yeti near Mt. Everest nearly brought Andy to tears it was so good!
While waiting in line for Mt. Everest, Charlie and I debated the legitimacy of the Yeti. He is sure it's not real; I begged to differ!
Nighttime Pandora is even more amazing!
We ended our action-packed day at the River of Life celebration. Super cool!
Saturday morning wrapped up our stay at the Wilderness lodge, but there was still more Disney fun to have! We brunched at Ohana, danced, and met Lilo and Stitch. Carter is so in love with Stitchy! Charlie loved the POG juice and sausages! I think he drank three crafts of juice and an entire pan of food all by himself! Food coma, for sure!
These three … oooeeevay!
My gorgeous summer babe
Winter Summerland Mini Golf!
Super cool course! Melted snowmen and a sun-bathing Santa. And lots of Chalupa smiles!
Daddy, Carter, then Charlie
After mini golf, we headed to Santa Anna island to Bradenton Beach. Destination: the most amazing beach house I've ever seen! We were like newbies on the Real World, running from room to room and taking it all in!
We went grocery shopping with every other tourist on the island! Lots of booze, guac, and junk food! And we came home to play ping pong and pool.
And IN the pool! HA! Charlie could not contain himself, and he headed right in, clothes and all!
We wrapped up our day with Uno. Owen, Carter, Charlie and I played a couple hands before bedtime. I'd bragged about my killer hand. Awesome, until I remember the "switch hand" wilds Charlie nailed me with!
BUNK BED ROOM! Girls bunk and boys bunk! Awesome
Sunday morning, I snuck away for beach treats and sunscreen while everyone else slept. I also walked to the beach, which was calm, tranquil, and stunning at 7am!
The kids loved the pool (so did the Dads!). The trips down that slide and those giggles! Lots of ping pong, pool, and swimming! SOAKING it all in!
We couldn't wait for the beach!
The beach, two blocks from our house, we unbelievable! Makayala and Amber searched for seashells, with Carter and I close behind. The boys splashed and wave jumped, and tossed the football around. My heart is happy!
After dinner, we taught everyone "7 Up," and ended a great day with cards and family fun!
What a sunset <3
Monday morning: The advantages of getting up early! Amber, Makayla, and I found the most beautiful shells before anyone else was even out of bed! Girlie was in heaven, with a beach full of shells to herself!
Once they were finally up, we spent all morning splashing and giggling in the pool!
Then Corey, Daddy, Carter, and Charlie and I headed to the beach to parasail!
From 350 feet above the waters, the kids and I spotted a dolphin and spotted tiger shark. Andy and Corey saw a coupleactual sharks, which I'm glad I did not know about untilafter we got back to land!
Afterwards, we found ice cream. Andlots of it!
We wrapped up our day with family photos taken at the beach!
Tuesday, we headed to Tampa to Busch Gardens. It was unbelievably hot, but a fun day, regardless! Lots of amazing animals and big coasters!
Andy loved the tortises, Charlie loved the kangaroos, and my favorite was the up close and personal lion's den!
Cutest tourists I've ever met!
This thing! My GAWD! It was like the Space Shot, but in reverse. It slowly pulled Andy and other riders to the top, tipped them so they were facing down, towards the ground, then dropped them! AWFUL!
Stupid heat and log ride! Because it was so humid, we waited 45 minutes for the log ride. I hate being wet, and, of course, I got absolutely soaked!
Carter's favorite, hands down, were the birds! She was in heaven! Her smile says it all!
We managed to track down and make all of little plasticy animals in the park! It was a hunt for great souvenirs, and Charlie loved it!
"Kumba" means "loud roar" in African. It was so loud on that ride! Super fun, but painfully loud!
Wednesday was all about the water! We spent our morning on the beach and our afternoon/evening exploring Florida waters!
Dads out in the Gulf!
Then Carter stole the raft and headed out into the Gulf and sun to read! She is so awesome!
We hopped onto two small fishing boats, and the captains of each helped us spot dophins and find water creatures
We found Florida Fighting Fish, five different star fish, an urchin, a scallop, and a bunch of sand dollars. Super cool!
Booze, snacks. Cards, family. Does vacation get any better?!
What a way to turn 40! Thursday, the boys headed to Top Golf, and the girls headed to spot dolphins and manatees.
Top Golf for the boys!
And the girls boarded the dolphin tour boat
We spotted a little group of dolphins, mama, baby, and dolphins taking care of the baby.
Then we found a group of manatee. Due to their behavior, our tour guide said she suspected that the mama was having a baby. Amazing.
Happy 40th, Andy Chalupa! We brought bday seafood lunch and homemade cupcakes. Andy's living the dream!
What better way to spend the afternoon than mini golfing?!
Makayla and Charlie scored a hole in one, and Owen scored THREE!
Florida Gator feeding time!

The Nerd Herd <3
Goofing in the pool! Life is so very good!
These crazies! I am so grateful and thankful for their wrestling, their giggles, their bonds, and the chance to be a part of it all <3
One last birthday surprise: family dinner by the Gulf at Wicked Cantina. Andy, with Corey's help, got up and sang karaoke! Carter and Makayla wanted to sing, too, so up we went! Good food, great music and sunset, and the most amazing family to share it all with. This is what it's all about!
Sunset sights; our final night in Florida could not have been more gorgeous!
Friday, we cleaned it, packed it, played it, and/or ate it!
We'd packed ourselves up and cleaned the house, and it only felt right to play one more round of 7 Up!
Our flight wasn't scheduled to leave until 5pm, so we found an arcade and laser tag!
… and we had lunch at Hooters, which made Carter hilariously uncomfortable!
We were ready to head home … until the lightning pushed us back nearly two hours. We were stuck on the plan, next to a very anxious claustrophic man, for 90+ minutes. In that time, he complained about being "held hostage," dared Charlie to yell "bomb," and encouraged him to start a riot with him! Ugh! We finally rolled home around 9pm … and totally cashed out after 10 days of awesome'ness!