Months ago, Aerosmith announced a Vegas residency.
Not long after, Andy announced we must attend.
And today, we hopped a plane for the weekend, Vegas bound!

We're off! The kids are with Corey and Amber today and Wesack's Sunday evening. We'll be back by lunch on Monday. 48 hours of non-adulting, here we come!
We checked out the strip, enjoying the Hershey store and treats and the New York, New York rollercoaster, and we caught the Belliago show!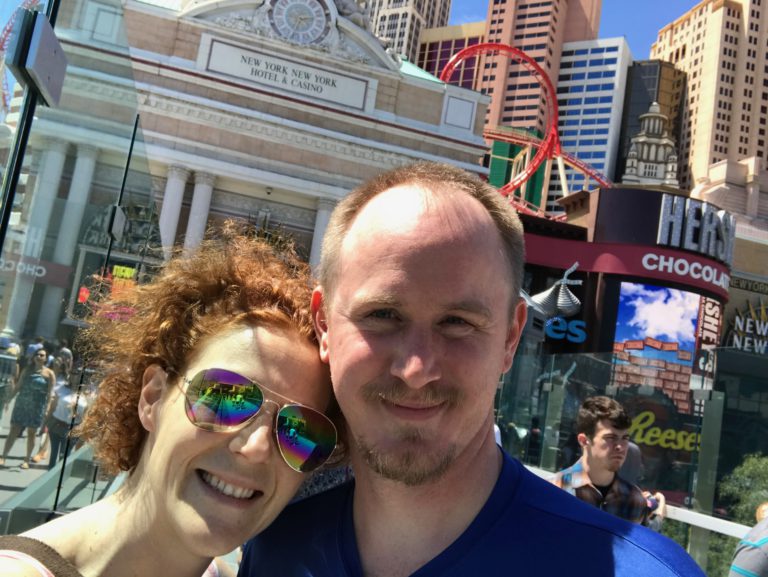 We met LOTS of famous people at Madam Tussaud's!
What happens in Vegas stays in Vegas … or at Madam Tussaud's!

We enjoyed Guy Fierri's Mesican for dinner! Guac and cocktails: You can't go wrong!
Feeling good after some beverages, we hit the casino! I put in my $2, and promptly lost it all! Andy started with $20, cashed out at $.41, rebounded to $2.12, then $3.82, and eventually back to bust!
Next up, the Penn & Teller show! Before the show, we got to check out the stage and boxes, looking for secrets and attempting to figure it all out. While we did escape the (unlocked!) boxes, we had no clue how they pulled it off!
And we met Teller & Penn! Awesome dudes, great show!
Sunday morning, after sleeping in!, we headed to breakfast at a quaint little spot called the "eggslut." Despite the name, it was crazy-good!
Then we headed to Freemonth Street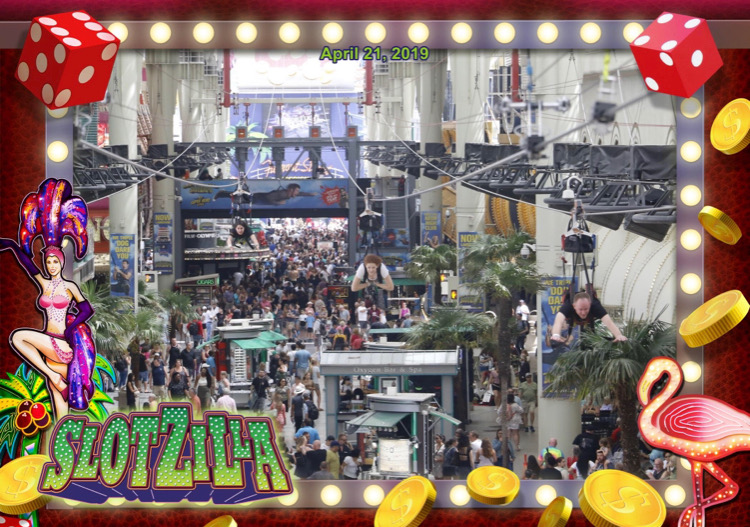 We zipped from one end of Freemont to the other via Slotzilla. Andy (right) and I (left) had a blast! Such a cool strip!
We made our way back to the main strip, hitting Bruxie for chicken and waffles, and homemade rootbeer and a mimosa, then the Shake Shack for a malt, fries, and a bunless burger, pre-show.
Then, it was game time!
Aerosmith took over the MGM Park for their "Deuces Are Wild" residency, and we couldn't have been more excited!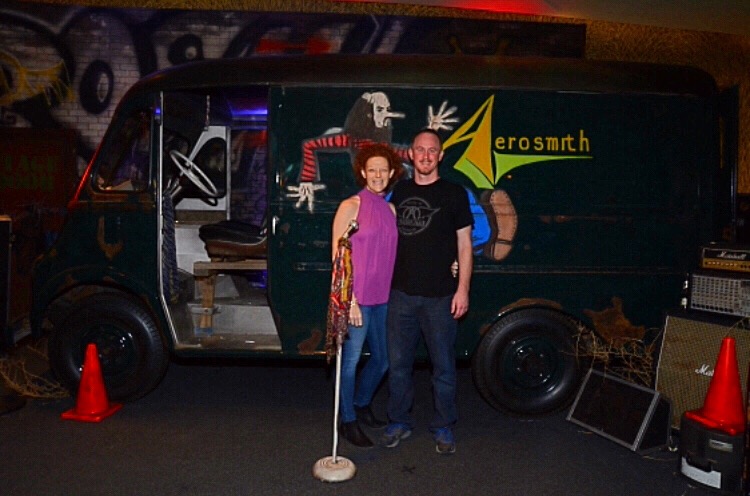 That's the van that Aerosmith originally toured in way back when!
Our seats were A-MAZ-ING! Center, one row back from the catwalk! Unreal!
The Toys in the Attic came to play, too!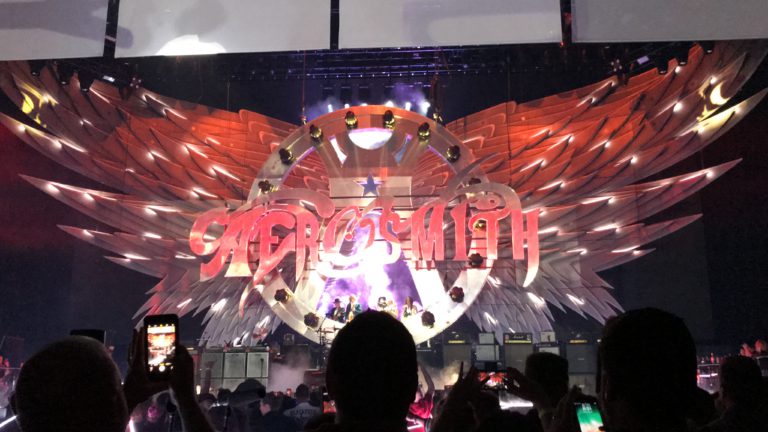 Yeah, we were THIS close! <3
Deuces Are Wild setlist of awesome'ness!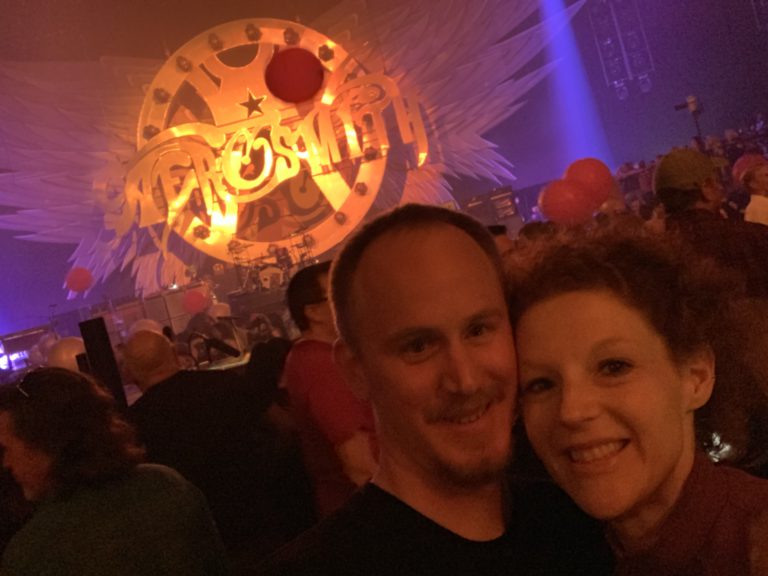 MAN! Unreal!
The greatest part was watching Andy love the show! He was in his element, loving everyone rockin' moment. The minute we got back to the room, he dug into his phone to relay video he'd taken! I love it! Thank you for sharing your love of classic rock with me!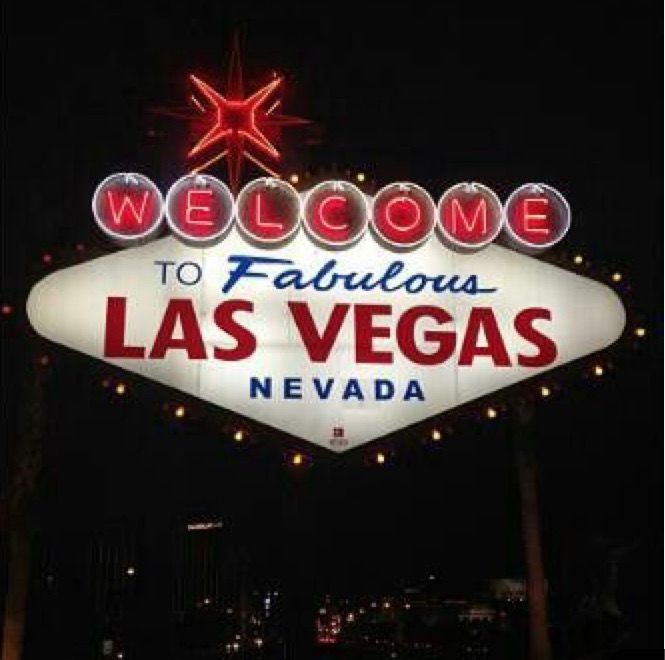 Later, Vegas! It's been a blast! But I have too much clothing and not near enough tattoos to stay!