Charlie's first touchdown and a complete TKO … is that football?!  Either way, one heck of a game!
She makes the best around!
Carter's Homemade "Basagna"
1 box of prepared lasagna noodles
1 pound of browned Italian sausage, crumbled
1 bag mozzo cheese
1 container ricotta cheese
1 cup Parmesan
1 can sketti sauce
Layer noodles, meat, cheeses, and sauce.  Repeat three times.  Top with remaining mozzo and Parm.  Bake, with crusty bread, at 350 for 30 minutes.
Try to save some leftovers for yourself for a busy Tuesday.  Fend off your brother, if possible.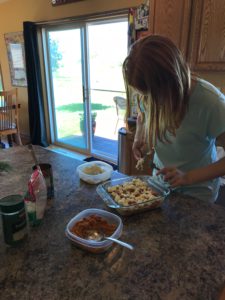 So focused on making a tasty dinner!