Yesterday, I'd planned a relaxing day with the kids at the pool.  BY CHANCE, I grabbed one of the four grad books I needed to read, thinking I'd get started on my big synthesis paper for graduation (graduation is the week of July 6 – 10th.  I totally have a ton of time).
So, I'm reading the syllabus and rubric for a purpose in writing, and I realize this is due June 15th.  Like, in 5 days, and we leave the day after tomorrow!  I totally panicked, shuttled everyone home, and got down to business!
Yes, it is done.  It helps tremendously that I had read the books and hard key points highlighted.  So, instead of reading grad texts on the beaches at Disney or writing papers afterwards, I AM DONE!
We celebrated with Water Balloon Pinata last night …. and today …
… we are on VACAY-TIME!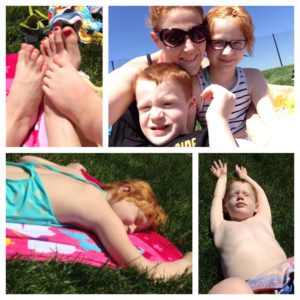 We ran our vacation errands, then they wanted to go back to the pool.  So pool it was!  And Mommy did the big slide, the lily pads, catch and dive, and the little slide (where I may have busted my butt!).  It was excellent!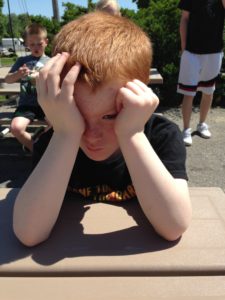 Then we hit Hawaiian Ice (Starburst, Gummy Worm, and Butterscotch!) to cool down.  Charlie declared, "I am exhausted."
So, we are now cleaned up and snuggled up, watching Inspector Gadget on Netflix!