This week is costume fitting week.  It's like Christmas for dancers!  I love it!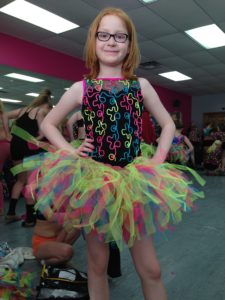 And because all 115 finale dancers were there, lookin' rad in their finale costumes, they ran through it a couple times:
Here's the thing:
We have about 2 months to recital (I'm not even sure this piece is finished yet!), but it brings tears of pride and joy to my eyes, every time!  I have said it once, and will say it to the day our dancing career ends: Encore is amazing!  Carter isn't just "a dancer," this is her family.  I have gotten to watch so many kiddos grow up and develop into beautiful dancers.  And my own Tiny Dancer?!  She's graceful, sassy, spunky, and dancing her passion!  Her boogie'ing in the wings makes my heart soar!  So, yes, 1, 2,3, 4, I LOVE ENCORE!