The summer tradition continues!  The Anderson's, Bumsted's and Chalupa's, along with the Lamm's, hit Adventure Land to kick start our summer for together!  We opened the place up at 10am, survived the downpour around 11am (when everyone was riding the Galleon and couldn't run for cover!) and the cold after, then the heat after, and we rode and rode and rode when the weather cleared and became wonderful!  We shut the place down just before closing, and had an excellent time!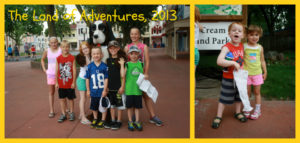 The Land of Adventures, 2013!  Nora B was too afraid of the dog to get anywhere near him, so Charlie posed with her over by the map!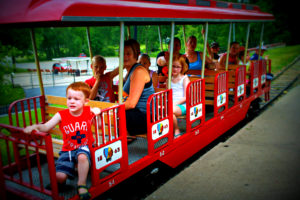 All aboard the FUN TRAIN!  Choo!  Choo!

After being poured on, Carter was so upset!  Cold and cranky, we left her to herself to work out her behaviors.  She strayed to the puddle, and I "caught" her doing this: being so wonderfully her!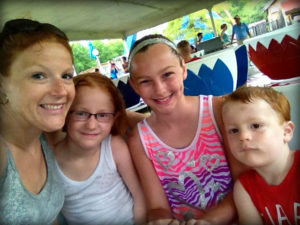 Me, Carter, Madi and Charlie on the tea cups.  Super special THANKS to Madi for working so hard to convince Carter things were fun, even when you're soaked!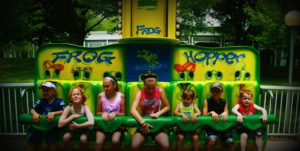 We took over the Frog Hopper!
Collin, Carter, Madi, Kylie, Nora B, Caden and Charlie

Driving Miss Nora B <3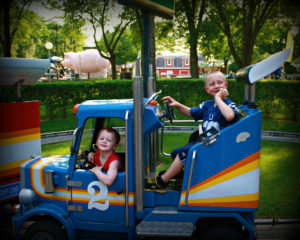 The dudes on the semis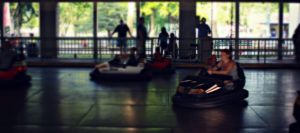 LOOK OUT!  Mama's crazy driving + Carter's lead foot on the gas = trouble!

Charlie takes flight

BOO!  While riding the yellow raft/slide ride thing, Carter was jerked around a corner and lost a flip flop!  Thankfully, we were near Adventure Bay, and walked to the shop and got new shoes.  She was very upset.  I told her, "Take it like a real woman, and look at it as a reason to buy shoes!"  She smiled, and rocked new pink flip flops!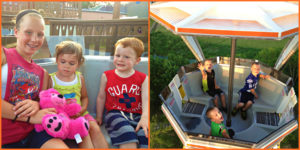 Wrapping up the rides with the Ferris Wheel: Girls in front, boys following, all, somehow, still in smiles!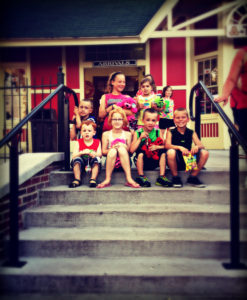 Last stop: The Candy Shop!  We bought sugar to last for days!  Later, Land of Adventure!  Whatta year!  We were able to send responsible kiddos to ride by themselves (close by, of course!), no one melted down (too badly), and nothing was broken or lost (just a shoe and an Avenger's cup – not teeth!)!  SUCCESS!