Every afternoon when I pick her up, I ask Carter the same two questions:
"How was your day?" followed by "Do you have any homework?"
4 out of 5 days, the answer is yes, and we come straight home and work on it together.  Lately, however, Charlie has been having homework, too.  It goes something like this:
Charlie: "I have homework."
Me, because it is sometimes a battle with Carter: "Oh no!  We should go do it, right now!"
Charlie: "Okay!"  And he runs to the art closet, grabs a piece of paper and sits next to Carter, drawing scribbles and circles on his paper while she works on regrouping and estimating.  When she's done ("I'm all done!" she sings), he will follow ("I … I'm all done, toooo!" in his itty-bitty awesome-dude voice).  I check hers for accuracy and give it back to her to put in her bag; I check his for awesome'ness and we file it away.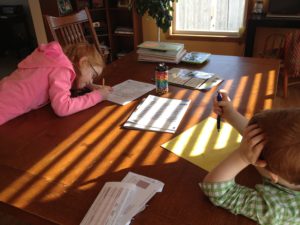 Carter and Charlie, slaving away at homework
(I LOVE his hand on his head, indicating that this is WAY TOO HARD!)