I dug out Christmas boxes of goodies Wednesday, putting up some small decorations and things, and also letting the excitement of THE TREE build!  They asked about it EVERY DAY: "Can we put the tree up now?!"
Well, today was The Day!
We enjoyed some hot chocolate (that Charlie spilled, cause that's what he does!), then put up our tree.  Carter was a fabulous tree branch fluffer, and Charlie did a great job of dragging EVERYTHING out of the ornament box!  And our final product: simply perfect!

So good!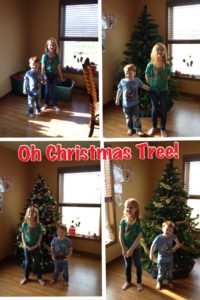 1. The empty corner
2. The tree
3. Garland and lights
4. FINISHED and BEAUTIFUL!  The kids ain't so bad, themselves!