Yes, do the math (and we can do this math, thanks for our cute pre-algebra teacher Mr. Rasmussen!  Everyone else took pre-alg as freshman, but Mackenzie and I put if off until we were seniors!  Are we awesome or what?!).  It's been 10 years since I've seen some of my classmates from Washington High School.
And I'm not going to lie: going to our reunion was really a tough decision for me.  A decision that I would have easily said no way to if I didn't have a great support system urging me to go (thanks guys!).  I have some great memories from our school days, but I also have some very fresh and painful memories.
There are people who weren't there (like Carrie and Brian) that I will always adore, and there are people who were there (my "gang" of Lexi, Rachel and Staci, Mackenzie and Andy and Cheyenne) that I will always love.  There were a lot of people I'd written off due to my memories – which in all honesty, are probably greatly skewed by me.  People that I kept telling my support system, "why do I care what these people think of me?  I don't need to impress them."
But, at some point in the evening, it wasn't about impressing people.  It was about me going back to what I was and being the me I am now.  I talked with many people, some who were my friends, some who weren't, and it wasn't about being better than them.  A lot of our classmates are doing great, and I'm proud of them for their accomplishments and beautiful families.  I got to hang out with the friends that I love, then and always, all while being me with no pressure.  I had a blast, and I think I'm over my self-induced traumas.
I don't think I can handle doing it again soon, but maybe at our 20 year reunion, I'll ride in the parade on our float!
Mackenzie and I – you have to swear not to tell her (because I'll never hear the end of it), but I'm glad she forced me to go.  And her pep-talk the week before made me realize that this one loves me for what I really am (nerdy and all!).  Thanks, kid!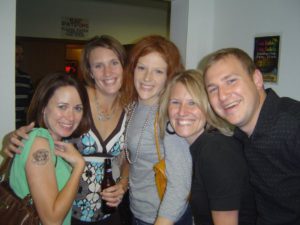 Cheyenne, Jeana, me, Kenz and Andy – if I could only find a great picture of us with the tattoos …